SABMiller and Coca-Cola are creating Africa's largest soft drink bottling operation with annual sales of $2.9bn as they seek to tap more of the continent's fast-growing middle class.
The deal will see them merge their bottling assets in 12 countries in south and east Africa to create a new company which will be called Coca-Cola Beverages Africa. It has the potential to transform SABMiller into Coca-Cola's main consolidator in the continent. It will allow the brewer, which has its roots in the region, to capitalise on the rapid growth of soft drinks while beer sales volumes stagnate.
More
On this story
On this topic
IN Food & Beverage
Coca-Cola, which is struggling to maintain sales among increasingly health-conscious populations, is under pressure to improve its financial performance and to double revenues to $200bn under chief executive Muhtar Kent's "Vision 2020" plan.
The Atlanta-based group is encouraging its 250 bottlers around the world to consolidate with the aim of promoting efficiency and higher revenues. The current focus on Africa follows the consolidation last year of its eight bottlers in Spain and Portugal into one business.
The SAB deal also furthers Coca-Cola's diversification into other areas through a side deal that involves the US group paying SABMiller $260m in cash to acquire the brewer's Appletiser brands on a worldwide basis and to acquire rights to a further 19 non-alcoholic brands in Africa and in Latin America.
The deal also marks a turnround for the brewer of Grolsch, Peroni and Castel from benign neglect of a bottling business seen as an adjunct to its core operations into a full embrace by "strengthening of our strategic relationship with the Coca-Cola Company," said Alan Clark, SABMiller chief executive.
SABMiller, which is Coca-Cola's largest bottler in South Africa, will become the US company's 10th-largest bottler worldwide, accounting for 40 per cent of all Coca-Cola's soft drinks volumes in Africa across 12 countries.
The equity deal announced on Thursday involves pooling the soft drinks bottling assets of SABMiller with those of the Gutsche Family, which is the main shareholder in another South African bottler called Coca-Cola Sabco, and Coca-Cola.
SABMiller will control 57 per cent of the new company; Gutsche Family Investments will control 31.7 per cent; and Coca-Cola Company will have 11.3 per cent.
The companies said their combined operations would have pro forma annual revenue of $2.9bn and process volumes of 729m unit cases, equivalent to 41m hectolitres.
Subject to regulatory approval, the deal is expected to complete within nine months, and is forecast to start adding to SABMiller's earnings per share in three years' time.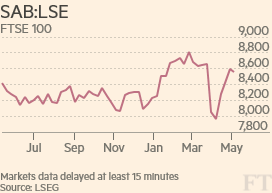 Africa boasts some of the world's fastest-growing economies and has been attracting increasing interest from investors. SABMiller has its roots in South Africa after being set up during that country's gold rush in the late 1800s.
Muhtar Kent, chairman and chief executive of Coca-Cola, said the deal illustrated "our firm belief in the tremendous growth prospects the continent offers", and that by combining their operations, the new company could "leverage the scale, resources, capability and efficiency needed to accelerate Coca-Cola growth".
The proposed transaction will be completed in two phases, first combining the operations in nine countries: South Africa, Kenya, Ethiopia, Mozambique, Tanzania, Uganda, Namibia, Comoros and Mayotte.
At a later date, SABMiller intends to include its Swaziland soft drinks business and those of its listed subsidiaries in Botswana and Zambia, subject to agreement with regulators and shareholders.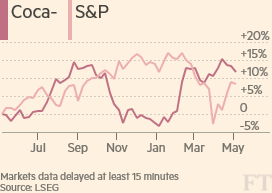 SABMiller will retain ownership of its non-alcoholic malt beverages in Africa and Latin America and will retain its Coca-Cola franchises in El Salvador and Honduras, the companies said.
Nomura and Newman Lowther & Associates advised Coca-Cola Sabco, and Rothschild advised SABMiller on the deal.
SABMiller's shares were flat in London trading on Thursday.
Copyright The Financial Times Limited 2014. You may share using our article tools.
Please don't cut articles from FT.com and redistribute by email or post to the web.